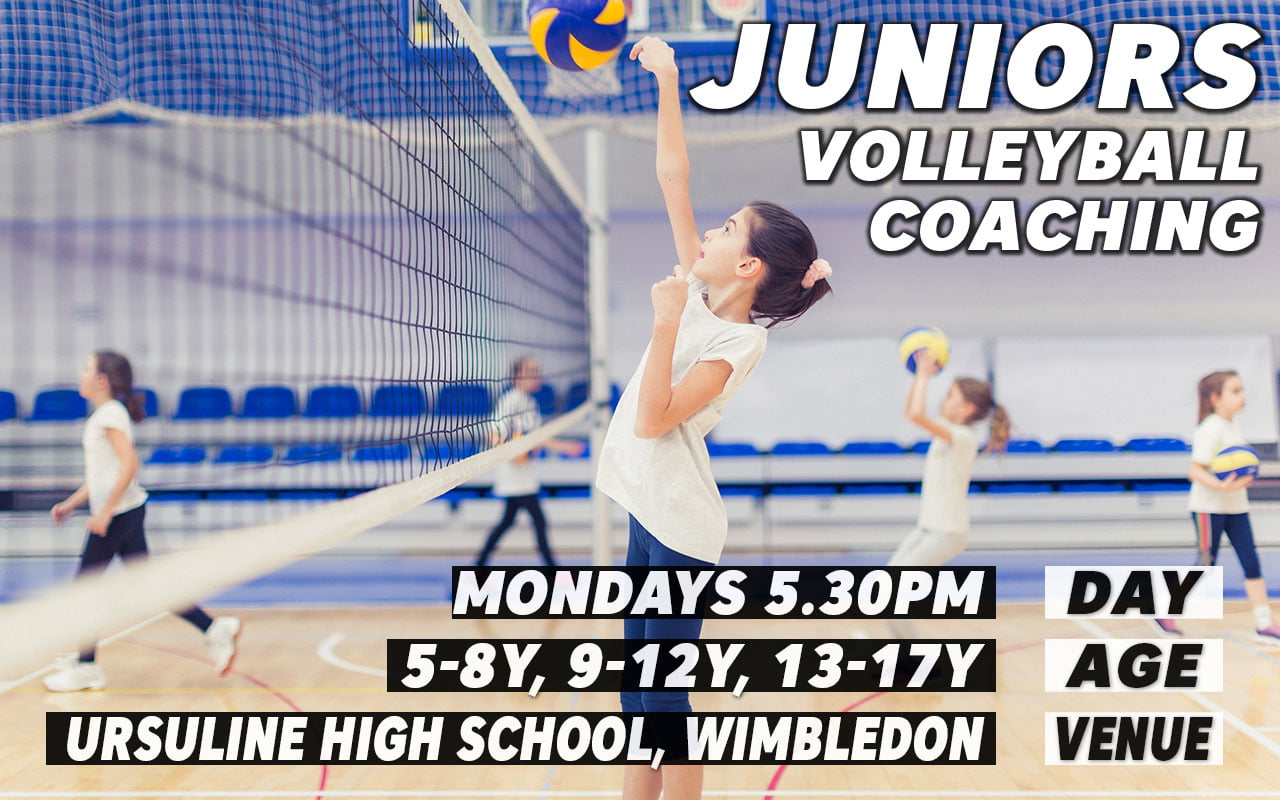 UPDATES:
The juniors volleyball classes on Mondays will start 15 mins later during August, at 5.45pm, as the school doesn't have staff during the day. From September the classes will return to the regular start time of 5.30pm.
---
EVENT:
Juniors volleyball session (5-8y, 9-12y, 13-17y)
---
DATE & TIME:
Monday 12 September 2022 @ 17:45 - 18:55
Add to Google Calendar
---
CATEGORIES:
Coaching, Juniors volleyball, Monday
---
LEVEL:
All levels welcome
---
GENDER:
Any
---
COST:
£14.00
You are booking for just 1 week of this course. If you would like to book for the full course at a reduced weekly rate of £13 then please send us a
Whatsapp message
or use the
Contact form to email us
.
---
FORMAT:
Playing volleyball will help improve your child's flexibility, balance, and coordination, whilst focusing on good footwork and correct hand-eye coordination for touching the ball.

The earlier kids are introduced to the sport, the more likely they are to develop the correct technique. The aim of this programme is to teach kids the basic skills in volleyball such as hand setting, digging, and hitting whilst having fun, playing games, and learning all the benefits of doing physical activity.

And also learning new skills, good sportsmanship, goal setting, teamwork and skills development in a fun atmosphere, and teaching them how to play in game situations.
---
LOCATION:
Ursuline High School, Wimbledon
Ursuline High School, London, SW20 8HF
Map & directions:
https://g.page/playfit-sports
---
HOW TO FIND US:
Please arrive 5-10 minutes before the event start time, and no earlier than this.
The school's official entrance on Crescent Road will be shut. So use the new entrance on The Downs. The easiest way to find it is to type the postcode "SW20 8HF" into Google Maps. Come through the entrance gate and follow the path round to the left which leads you into the car park and besides the sports hall, then walk around the side of the sports hall to the glass entrance door.
---
FACILITIES:
The sports hall is conveniently located a few minutes' walk from Wimbledon tube and rail station, and there's plenty of free car parking.
The toilets are available, but the changing rooms and water fountains can't be used at the moment due to Covid restrictions.
---
WHAT TO BRING:
---
COVID-19 SAFETY:
All players must check the
Covid-19 guidelines
each time before playing and check for updates so we can keep everyone safe.
All players must wear a face mask on the school grounds except when playing in the sports hall. Please bring your own hand sanitiser and use this to disinfect your hands every 15 minutes.
---
GENERAL SAFETY:
For everyone's safety, please cut your fingernails short before you arrive and remove all jewellery including wedding rings and bracelets, and watches and fitness trackers.
---
NOTE:
– You are responsible for your personal safety and your belongings at all times.
– Please take out your own insurance to cover you in case of injuries, including player-to-player injuries.
– There are no refunds unless we cancel the event. See our refund policy here.
---
TERMS & CONDITIONS:
By purchasing a place at this event and/or attending, you and each of your guests, as applicable, confirm that you have read and agreed to our Terms & Conditions.
---
SPECTATORS:
The Covid-19 rules for sports means strictly no spectators.
---
WE'RE HERE TO HELP:
If you have any questions or need help booking your place then send us a
Whatsapp message here
or send us an email through the
Contact Us
page.
---
AVAILABILITY:
Places available - book now!
---
BOOK YOUR PLACE: